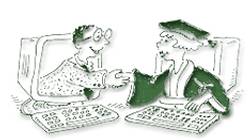 Welcome to the Links Section!

Please find below a selection of interesting World War 2 websites. If you would like to exchange links please use the
feedback
page.
The Luftwaffe 1933-1945
This web site is about anything and everything relating to the Luftwaffe.
U-Boat.net
A complete encyclopaedia of information relating to the U-Boat war from 1939 to 1945.
FeldGrau.com
This site contains just about everything you could possible want to know about the German armed forces of World War 2.
Bund Deutscher Mädel
An extensive historical research site about the Bund Deutscher Mädel, or BDM, which is the only one of its kind in any language.
Die Gebirgstruppen
A web site about the 100th Gebirgsjäger Regiment of the 5th Gebirgsjäger Division.
German U-boats and the Battle of the Atlantic
Provides an in-depth history of the Battle of the Atlantic and other naval battles; along with U-boat history, photos, technical information, and U-boat tactics.
Battleship Bismarck
An excellent web site, with everything you ever wanted to know about the Bismarck.
Comando Supremo
A web site dedicated the the Italian war effort between 1940 and 1943.
The World at War
History of World War 2 1939-1945.
Nihon Kaigun
This site is dedicated to the Imperial Japanese Navy.
Battles of the Winter War
Covers the epic war between Finland and the Soviet Union during the winter of 1939/1940.
Panzerworld
A site with lots of detail about German Panzer forces during World War 2.
Green Devils of Carentan
This is a re-enacting group, specialising in re-enacting battles fought by 2nd Kompanie of the 6th Fallschirmjaeger Regiment, who fought in Normandy from June 1944.
Warsaw Uprising 1944
The heroic and tragic 63-day struggle of Polish underground to liberate WWII Warsaw from German occupation told through documents, timeline, maps, photos, movies, and songs.
World War 2 Cruiser Operations
Has information about warships that fought in World War 2, their actions and personal stories. A wealth of detail and more than 1,100 photos to view.
The National Ex-Prisoner of War Association
With Dame Vera Lynn, DBE, LLD, M.MUS as their Patron, the National Ex-Prisoner of War Association website deserves your attention.
Battle Cruiser Hood
An official site detailing everything you could possibly want to know about H.M.S. Hood.
The Battle of Britain Historical Society
A site to remember and honour the bravery of the 'Few'.
US 70th Division Website
The U.S. 70th Division's Association Website.
WW2 - A British Focus
Many valuable resources for anyone who is interested in World War 2 from a British point of view.
Land Forces of Britain, Empire and Commonwealth
A great website which details Nations, Wars, Regiments and Traditions of Britain and its Empire.
Czechoslovak military units in USSR (1942-1945)
Dedicated to members of the Czechoslovak military units in USSR, who took part in war to liberate the Ukrainian and Czechoslovak territory between 1943-1945.
US 45th Infantry Division
This 45th 'Thunderbirds' Infantry Division organisation, honours the veterans who served in the 45th Division, by re-enacting their World War 2 battles.
USAAF Internees in Switzerland
This site is all about interned USAAF personnel in Switzerland during World War 2.

World War 2 Dodge site
This site is dedicated to one of the finest trucks of the '40-'45 era, the Dodge, a true army workhorse with many variants.

Norway During WW2
Everything you ever wanted to know about Norway during World War 2.
DDay-Overlord.com - The Battle for Normandy
An interesting resource for anyone interested in operation 'Overlord' and the Normandy campaign.
Second World War Encyclopaedia
A truly massive World War 2 site, covering everything from political and military leaders, through to weapons and tactics.

History Animated
This niche site, inlcudes a collection of interactive animations depicting key battles of the Pacific War during World War 2.

War Museums in Europe
Offers information about war museums in Europe and share the experiences of those who have visited them.
International Military Antiques
Offers imported merchandise from Europe that is not available elsewhere, as well as products from Asia and the Far East.
Tanks in World War 2
A detailed site where you can find information and pictures about virtually any tank or AFV used during World War 2.
ww2images.com
If you need a photo, then why not take a look at the 1,000's on offer at this site.
WWII in Europe
An interesting collection of World War 2 statistics, photos and memoirs.
Armortek
A great site for enthusiasts in 1/6th scale model vehicles and figures.