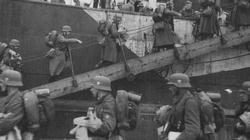 Welcome to the Scandinavia Timeline!

This timeline covers all the political and military events that occurred within Scandinavia between the years 1939 and 1945. The countries encompassed within the timeline are Denmark, Norway, Finland, Sweden and Iceland.
"Like so many of our people, we have now had a personal experience of German barbarity which only strengthens the resolution of all of us to fight through to final victory."

King George VI
September 1940



Marshal
Semen
Timoshenko

Marshal
Carl
Mannerheim

Finnish Bristol Bulldog Mk.IVa

Finland had 17 Bristol Bulldog Mk.IVa which were powered by Mercury radial engines, and in spite of their obsolescence, scored a number of victories in the Winter War.