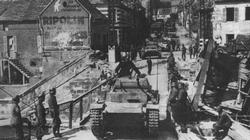 Welcome to the Western Europe Timeline!

This timeline covers all the political and military events that occurred within Western Europe between the years 1939 and 1945. The countries encompassed within the timeline are France, Low Countries, Spain, Portugal and Switzerland. Germany and Austria are also covered, but only in respect to the part they played in the Western European theatre of war.
"Dunkirk has fallen... with it has ended the greatest battle of world history. Soldiers! My confidence in you knew no bounds. You have not disappointed me."

Adolf Hitler
Order of the Day - 5th June 1940


General
George
Patton

Field Marshal
Gerd von
Rundstedt

American M24 Chaffee

The M24 Chaffee light tank reached Europe in the winter of 1944 replacing the M5 Stuart. The gun was almost as powerful as a Sherman's, it was also had well-shaped armour and great mobility, making the M24 probably the best light tank of World War 2.