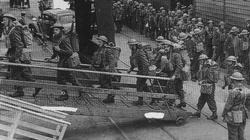 War in Britain!
01/09/1939
In Britain, general mobilisation declared.
02/09/1939
National Service Act passed in Britain.
03/09/1939
After Germany rejects the Anglo-French ultimatum of 1st September, which called for the withdrawal of all German forces from Poland, Britain declares war on Germany at 11am.
07/09/1939
King George VI gives assent to National Registration Bill, providing government control over labour and introducing identity cards.
09/09/1939
Chamberlain's Cabinet plans for a 3 year war.
19/09/1939
First British casualty list published.
27/09/1939
Sir John Simon's first war budget, income tax up to 7s 6d in the £.
01/10/1939
British men between 20 and 22 now liable for conscription.
09/10/1939
Chamberlain announces committee of ministers to co-ordinate the economy.
04/11/1939
Rear-Admiral Hugh Sinclair, head of British Secret Intelligence Service (MI6), died of cancer. Succeeded by his deputy, Colonel Stewart Menzies.
11/11/1939
Queen Elizabeth broadcasted a message to the women of the Empire, calling them to join the war effort.
21/11/1939
Prime Minister Chamberlain imposes an embargo on all German trade, with goods currently in Britain, but destined for shipment to Germany to be confiscated.
18/12/1939
The first Canadian troops arrive in Britain.